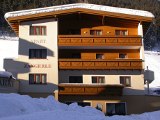 Current information regarding COVID-19 and seasonal times in Winter 2021/2022 can be found here
Newsletter by the Trourist board Paznaun-Ischgl:
Top of the Mountain Opening Concert


Italy meets Ischgl...
… at the legendary Top of the Mountain Opening Concert on 27.11.



Il Volo & Alice


All information about the Concert
The first ski-day is coming!
25.11.2021


first ski-day in the Silvretta Arena
Safely through the ski-season

#gemeinsamsicher


all health and safety measures
©2021 Tourismusverband Paznaun - Ischgl | Dorfstraße 43 | 6561 Ischgl | Österreich
Tel. +43 (0)50990 | Fax +43 (0)50990 199
E-Mail: info@paznaun-ischgl.com | www.paznaun-ischgl.com
Körperschaft öffentlichen Rechts | Geschäftsführung: Dietmar Walser
UID: ATU61398366 | Aufsichtsbehörde: Land Tirol (Tourismusabteilung des Landes Tirol)
Enjoy your winter holiday in the ski paradise Silvretta-region Paznaun-Ischgl
We welcome you in our apartment-house APART ZANGERLE!


Our house is located in a sunny and quiet environment surrounded by the unique Mountains of the Silvretta region, 1.5 km away from the center of the village Kappl and only about 5 km away from the ski and leisure metropolis Ischgl.
Wonderful ski areas, cross-country skiing, sledding and mountain magic, snowshoeing ...

and all within spitting distance.
In summer as in winter you can get to your desired destination with the urban or ski bus in a few minutes.
The busstations for both directions are nearby the house. During the holiday you can park your car in front of the house.

Our house offers you 4 comfortable apartments (Internet / WIFI), which should be a place of rest and calm.

We hope to fulfill all your wishes after visiting our homepage and would be glad to get an inquiry.